Generation J are the C-level leaders in Organizations Today
If you are pitching  to the C-suite leaders, the chances are you are selling to Generation Jones [Generation J] leaders.
That's right Generation J!  Generation J are the C-level leaders in organizations today.
What is so interesting about this little but critical fact, is that so few people know that there is a Generation J.
Generation J is often lumped into the well-documented Baby Boomer generation i.e. children that were born after World War II between mid- 40s to mid-60s. However, there is a fundamental flaw here, as this period actually represents two generations with two distinct cultural norms.
Baby Boomers were born between mid-40s to mid-50s and were teenagers or young adults in the 50s and 60s. A generation who wanted to change the world and preached free love. They grew up on television and view  the Internet as a tool to get things done, They generally prefer to get their news offline.
However, children born between mid-50s –mid-60s and were teenagers or young adults in the 70s and 80s are Generation J. A generation that grew up with the "funk" and John Travolta. They fall between the Boomers and GenX. Generation J prefer email and face to face communication  They grew up on videos and view the internet as a life style.  Generation J is open to news off and online and are avid cell phone users.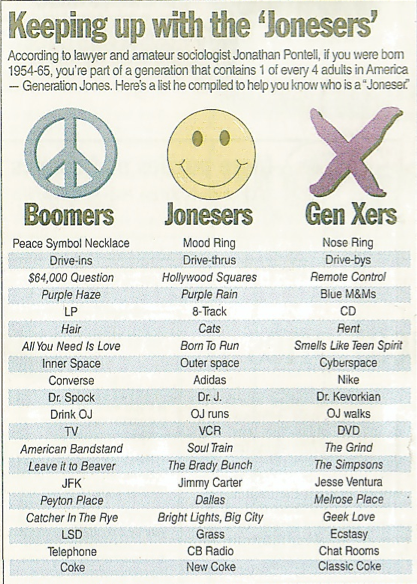 Immediately, you can now appreciate the difference. Right?!
Generation J is derived from the slang "Jonesin" meaning craving or yearning. This generation lies between the personality extremes of the Boomers' idealism and the Xers' cynicism. They tend to have a more pragmatic idealism than the Baby Boomers with high expectations. In the US, Generation J make up 25% of the population.
So who are  Generation J?
There has been a lot a hype recently regarding 55-year olds using social media. Why is this highly surprising? Today's 55 year-olds belong to Generation J and quite tech savvy. If you make the assumption that all those who are in their 50s are digitally inadequate, especially if you are pitching a C-level leader, you most likely will make a grave error. This generation has been shown to be innovative leaders that are passionate about bringing their vision to life. Ok that might be a huge generalization however, I feel it important to adjust our thinking of this generation and the C-level.
So here are a few important facts:
1. The Majority of senior leaders in the workforce today are in fact Generation J!
2. Many of the computer and internet innovations that we enjoy today were invented by Generation J.
3. Many successful senior serial entrepreneurs are from generation J.
Let me give you a few examples:
Barrack Obama: First political leader to use social media in a significant way to drive his political campaign. Yes We Can!
Bill Gates: His quote "Be nice to nerds, chances are you'll end up working for one."
Brad Pitt: Yes, Gen J! His quote "Adapt or die".
Ellen Degeneres: Yep, Gen J! Her quote: "It's failure that gives you the proper perspective on success."
George Clooney. Yes Ladies Gen J! His quote: "The only failure is not to try."
Jeff Bezos! Yes, Gen J. As the Amazon CEO, he knows a thing or two about word of mouth. Here is one of his quotes"If you build a great experience, customers tell each other about that. Word of mouth is very powerful."
Steve Jobs! Need I say more?
The list goes on [see my list.ly list below for more]. As I said, Generation J are the C-level leaders in organizations today.
So if you are pitching to the C-level, do your homework. Get to know Generation J.
Your turn. What are your thoughts?
Generation J [Born between 1955-1965]
Generation J often gets lumped with the Baby Boomers. However they are a distinct generation that lies between the Baby Boomers and Gen X. They are today's leaders.
Image credits
Hippie Culture Collage By Kanyeknievel On Deviantart #69345
Jonathan Boho for The Tennessean